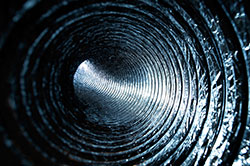 It is well-known that contaminated air can lead to serious diseases such as allergies and respiratory infections that can show up after a certain period of time. In that event, in order to keep yourself in a good shape, it is very important to frequently undertake some maintenance activities. Air duct sanitizing falls into this category as well. As a result, you will manage to keep microorganisms and other damaging factors far away from your home or office.
Air Duct Sanitizing is a Must
Air duct sanitizing should not be a choice but a must. Even manufacturers recognize the importance of performing this task. What is more, this maintenance activity helps take your indoor air quality to the next level when it comes to cleanliness and freshness. Air duct sanitizing usually takes place after the first step, duct cleaning, is successfully completed. What follows next is the application of special solutions meant to help get rid of any dust, debris and everything else that's harmful and residing where it shouldn't. In short, opting for this measure powerfully ensures that a wide variety of microbes which can provoke many diseases are eliminated from your HVAC system.
Effects of Unsanitized Ducts
A dirty air duct system will stop being energy-efficient. As a result, a significant increase in your energy bills will be more and more noticeable from month to month. Additionally, if environmental friendliness is one of your concerns, you should definitely not leave this matter unattended. In essence, air duct sanitizing is meant to boost your HVAC unit's performance as well as to considerably reduce its energy usage. A clean air duct system will help you save significant amounts of money in the long run.
Sanitizing Solutions in Use
When it comes to HVAC air duct cleaners, you should not use those that contain harmful biocides under any circumstances, as they may be a serious threat to your health and well-being. In response to this, our Redondo Beach technicians recommend organic cleaners that are eco-friendly and will also not pose a risk to you and your household. You must also bear in mind that this complex process does not appeal to those DIY enthusiasts. As far as it is concerned, you are strongly encouraged to ask for professional help.
Get Yours Done Today
Sanitizing your air ducts is the natural process that follows after the cleaning process. This is essential to ensuring that dust, debris and pathogens won't be returning back to your ventilation system in the near future. Get in touch with our technicians at Air Duct Cleaning Redondo Beach and they will be pleased to wow you with their expert capabilities!